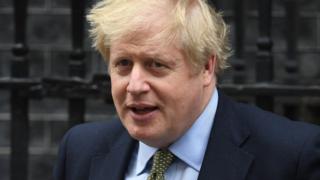 Foreign Secretary Dominic Raab has said he is "confident" Boris Johnson will recover from coronavirus, describing the prime minister as a "fighter".
Speaking at the daily coronavirus briefing, Mr Raab said Mr Johnson remained in "good spirits" and was breathing without assistance.
He also described the PM as not only a colleague – but "also a friend".
The Queen has sent a message to Mr Johnson's family and pregnant partner, saying they are in her thoughts.
Speaking at the daily coronavirus briefing, Mr Raab, who is deputising for the PM, said: "All of our thoughts and prayers are with the prime minister at this time, with Carrie and with his whole family," he said
"And I'm confident he'll pull through because If there's one thing I know about this prime minister: he's a fighter. And he'll be back at the helm, leading us through this crisis in short order."
It comes as the number of coronavirus hospital deaths in the UK rose to 6,159 – a record increase of 786 in a day, the Department of Health and Social Care said, compared with 439 on Monday.
'Very clear instructions'
Mr Raab said Mr Johnson was receiving standard oxygen treatment and breathing without any assistance, such as mechanical ventilation or non-invasive respiratory support.
The foreign secretary said he was standing in for the prime minister "whenever necessary", including leading the daily meetings of the coronavirus "war cabinet".
He said he had "total confidence" in the arrangements Mr Johnson had put in place to allow the foreign secretary to deputise for him.
The cabinet has "very clear instructions" from the prime minister while he remains in hospital, Mr Raab added.
"Well first of all, decision making by government is made by collective cabinet responsibilities, so that is the same as before.
"But we've got very clear directions, very clear instructions from the prime minister, and we're focused with total unity and total resolve on implementing them so that when he's back, I hope in very short order, we will have made the progress that he would expect and that the country would expect."
It comes as Cabinet Office minister Michael Gove became the latest politician to self-isolate.
Mr Gove said he did not have symptoms but a family member did. He is continuing to work at home.
Mr Johnson was admitted to St Thomas' Hospital in central London with "persistent symptoms" of Covid-19 on Sunday and was moved to intensive care on Monday at 19:00 BST after his symptoms worsened.
Buckingham Palace said the Queen had sent a message to Mr Johnson's family and his partner, Carrie Symonds, saying she was thinking of them, and wished the PM a full and speedy recovery.
Prince William also tweeted a personal message of sympathy to the PM's family, signing it off with his initial "W", while his father, the Prince of Wales, sent a message from himself and the Duchess of Cornwall wishing Mr Johnson a "speedy recovery", Clarence House said.
In a statement on Tuesday, a Downing Street spokesman said: "The prime minister has been stable overnight and remains in good spirits. He is receiving standard oxygen treatment and is breathing without any other assistance.
"He has not required mechanical ventilation or non-invasive respiratory support."
A ventilator takes over the body's breathing process when disease has caused the lungs to fail.
Mr Johnson does not have pneumonia, Downing Street added.
Dr Jon Bennett, president of the British Thoracic Society, said it was "heartening" the PM was receiving "standard oxygen treatment" – through his nose or via a face mask – because in more serious cases it would be delivered through mechanical support, such as continuous positive airway pressure, high flow nasal oxygen or more invasive ventilators.
The spokesman said that the mood in government is "determined", and ministers have a very clear plan set out by Mr Johnson for responding to the pandemic.
The prime minister's weekly audience with the Queen will not go ahead, although she will be kept regularly informed about his condition, the spokesman added.
Speaking to BBC Radio 4's Today programme, Mr Gove pledged that if there is any change in his condition "No 10 will ensure the country is updated".
Today's figures are a record high and bring the currently reported death toll above 6,000 for the first time. The rise of 786 is higher than Saturday's previous peak of 708 deaths reported in a single day.
We also know that this figure misses deaths that occurred but have not yet been reported, so the true death toll at this point is likely higher.
If there is any silver lining to these grim figures, it is that they represent the fourth day in a row of below-trend growth.
For weeks up until Friday's figures, the number of deaths had been doubling every three and a half days. Had that trend continued, we would have seen close to 1,400 deaths today.
So 786 is better than that, although it's still too soon to know what's causing it. It could be a big bottleneck in reporting (we've seen that after previous weekends) or genuine evidence that growth is truly slowing down.
More hopefully, for almost a week, daily new cases have been holding steady at about 4,000 a day, suggesting that, while we are still seeing new cases, the growth in this figure could be stalling.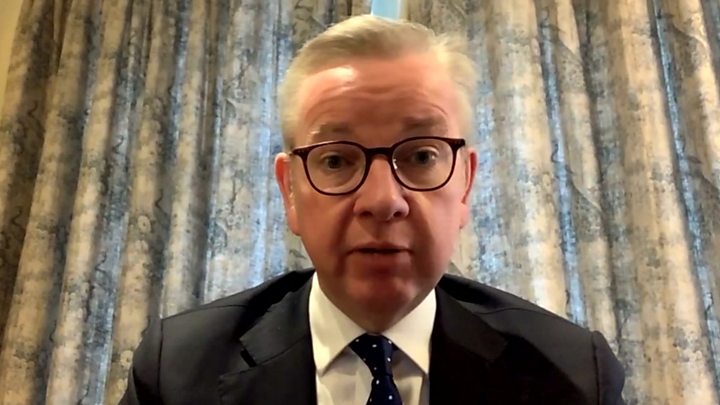 Foreign Secretary Dominic Raab is deputising for the PM and chaired the government's daily coronavirus meeting on Tuesday.
As first secretary of state, Mr Raab is the minister designated to stand in for Mr Johnson if he is unwell and unable to work.
Mr Raab said earlier there was an "incredibly strong team spirit" behind the prime minister and that he and his colleagues were making sure they implemented plans that Mr Johnson had instructed them to deliver "as soon as possible".
Some politicians have called for greater clarity on what Mr Raab's role as deputy entails, including Tory MP Tobias Ellwood, who asked for details "as to where responsibility for UK national security decisions now lies".
Lord Heseltine, who served as deputy prime minister under John Major, said it will be a "very difficult personal position" for Mr Raab, who "will be tested by the loneliness of the job".
"He will be surrounded by lots of people who know what Boris Johnson said, believe Boris will be quickly back and have their own personal agendas anyway," he said.
Former cabinet member and Tory peer Baroness Morgan told BBC Radio 5 Live's Emma Barnett Show that while Mr Raab was "incredibly capable", there was "no way that he would have wanted to be in this situation".
She added: "I think the reason that people have been so stunned and taken aback and feel so involved with the prime minister's health, is because Boris Johnson is prime minister, he gets a lot of coverage.
"Obviously, he was very front and centre in an election campaign, which seems like a million years ago but was only a couple of months ago, and people invest an awful lot of hope in their leaders at this time of national crisis."
As of 09:00 on Tuesday, 213,181 people have been tested, of which 55,242 tested positive, the Department of Health and Social Care said.
Overall, 266,694 tests have been concluded, with 14,006 tests carried out on Monday.
The daily figure for the number of people tested on Monday excludes data from Manchester and Leeds because of a "data processing delay", while the overall tests figure excludes Northern Ireland, the Department of Health added.
---
Mr Gove is the latest cabinet minister to self-isolate, after Mr Johnson, Health Secretary Matt Hancock and Scottish Secretary Alister Jack.
The government's chief medical adviser, Prof Chris Whitty, and the PM's adviser, Dominic Cummings, also spent time self-isolating after showing symptoms.
Mr Johnson's condition means his fiancee, Carrie Symonds, who is pregnant with their first child, is unable to visit him in hospital.
She said at the weekend that she is "on the mend" after herself being forced to self-isolate after displaying symptoms of the disease.
Meanwhile, world leaders and fellow politicians have sent messages to Mr Johnson wishing him well.
Newly-elected Labour leader Sir Keir Starmer described it as "terribly sad news", adding: "All the country's thoughts are with the prime minister and his family during this incredibly difficult time."
Russia's Vladimir Putin wished Mr Johnson a speedy recovery, saying he was "convinced that your energy, optimism and sense of humour will help you overcome the disease".
And US President Donald Trump said Americans "are all praying for his recovery", describing Mr Johnson as "a very good friend of mine and a friend to our nation" who is "strong" and "doesn't give up".
In other developments:
---
How have you been affected by the issues relating to coronavirus? Share your experiences by emailing haveyoursay@bbc.co.uk.
Please include a contact number if you are willing to speak to a BBC journalist. You can also contact us in the following ways:


boiler repairs Stoney Stratford